Dhaka, 11 May: Certificate Award Ceremony of No 122 Junior Command and Staff Course (JCSC) held at 31 Squadron Bangladesh Air Force of BAF Base Bashar on 11 May 2023, Thursday. Chief of Air Staff Air Chief Marshal Shaikh Abdul Hannan BBP, BUP, nswc, fawc, psc has distributed certificates and trophy among the graduating officers as the 'Chief Guest'.
On his arrival, The Chief Guest was received by Air Officer Commanding of BAF Base Bashar Air Vice Marshal Md Sharif Uddin Sarker, GUP, BPP, ndc, psc and Officer Commanding of Command and Staff Training Institute (CSTI) Group Captain Abdullah Al Farooq, ndc, psc. In the opening address, Officer Commanding, CSTI gave a brief resume on the training and academic curriculums of No 122 JCSC. 19 officers from Bangladesh Air Force and 02 officers from Nigerian Air Force have undergone this 14-week-long course. The course is designed to train officers on effective command and staff duties within service, inter-service and joint service environment. Since inception of JCSC, CSTI is committed to prepare future leaders of Armed Forces who can serve the nation with dignity and honour.
The Chief Guest handed over the certificates to all graduating officers and awarded the "Chief of Air Staff's Certificate and Trophy" to Squadron Leader Sabbir Hasan Rehan, GD(N) of Bangladesh Air Force for his overall best performance in the course. While addressing, the Chief Guest gave his valuable guidance for future assignments to the participating officers and thanked the government Nigeria for sending officers in this course. He added that command and staff skills which have been achieved in the course would also be of immense value in shouldering the future assignments.
Senior officers of BAF along with military and civil instructors of the institute were present in the Certificate Award Ceremony.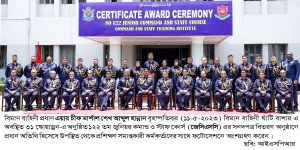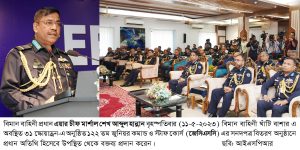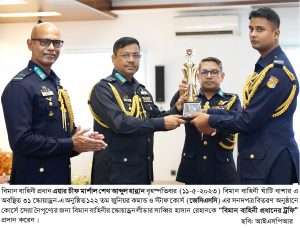 CERTIFICATE AWARD CEREMONY OF NO 122 JUNIOR COMMAND AND STAFF COURSE