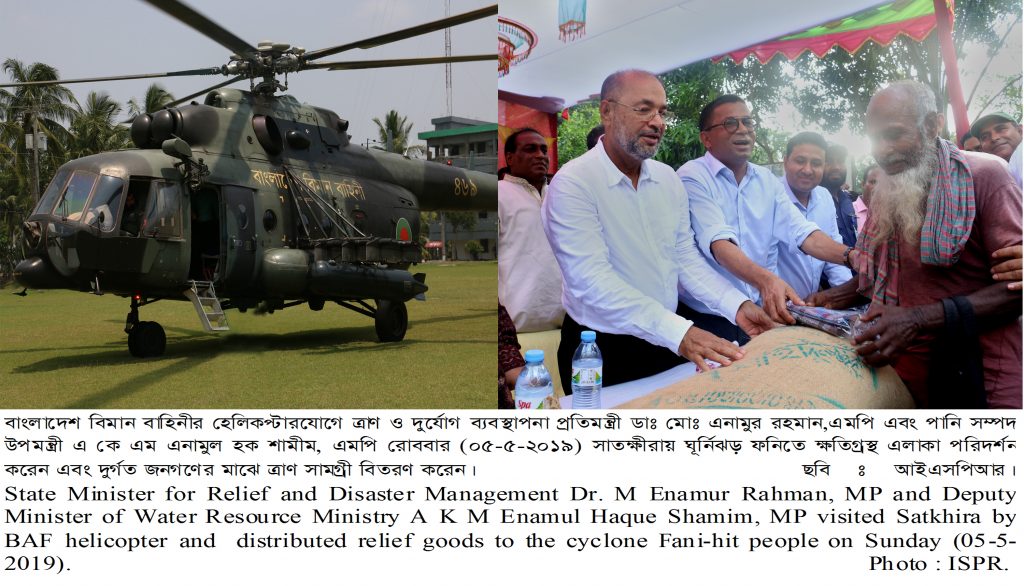 Dhaka 05 May 19: With the help of Mi-17 Helicopter of Bangladesh Air Force,the State Minister Dr. M. Enamur Rahman, MP, Ministry of Disaster Management and Relief, Deputy Minister A K M Enamul Haque Shamim, MP, Ministry of Water Resources along with19 media persons visited the extremely severe cyclone storm Fani affected area on 05 May 2019.
They visited the area to observe the actual situation of post Fani. They visited Shyamnagar & Nildumur of Satkhira and its adjacent area and talked to the victims. During visit, the media persons took photos and video clips to show the real picture of the Fani affected area.
It is expected that the report of their visit will help the authority to take measures for post Fani disaster management. After visit, they were carried back to Dhaka.
Mentionable that a meeting on post Fani Disaster Management was held at Disaster Management Cell of BAF Base Bashar on 04 May 2019.The State Minister of Disaster Management and Relief, Chief of Air Staff, PSO AFD and other senior military officers were present on the occasion.